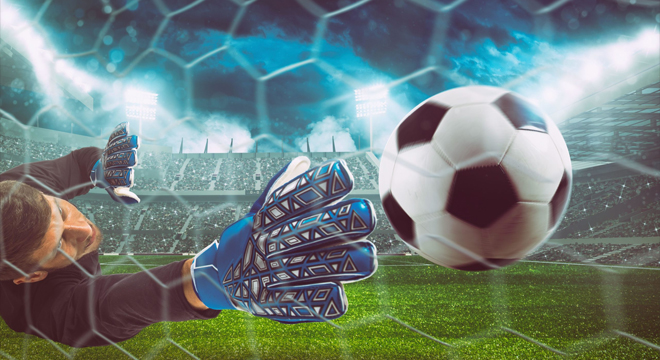 Football and casino games are two of the most popular forms of entertainment across the world – and when the two collide, they really do create a thrilling experience for fans of both worlds. If you like the idea of winning money on football, there's more than just the option of placing a football bet now. You can spin the reels of some seriously cool football games – and be in with the chance of netting a big win.
So, here we'll check out some of the coolest football-themed casino games from around the world
Football Star Slot
Kicking off our list is the Football Star slot game – a high-energy, high-octane offering that combines the excitement of football with the thrills of gaming. Developed by the world-renowned Microgaming, this game features football players, football balls – and a roaring crowd. What's more, it boasts 243 ways to win, free spins, rolling reels, and increasing multipliers, making it a favourite among football fans looking for something different.
Football Champions Cup
Football Champions Cup is another top-rated football-themed slot game, this time from another huge brand…NetEnt. As you'd expect from NetEnt, it's a visually stunning game that allows you to take your place in a virtual football tournament while spinning the reels. The bonus game takes you over to a penalty shootout, where you can score goals and save shots to win cash prizes and multipliers. The game's immersive graphics and fun gameplay perfectly capture the spirit of the beautiful game.
Soccer Safari:
Soccer Safari, by Microgaming, offers a unique twist on the football theme. This slot is set in the heart of the wild African savanna and features some pretty sporty animals playing football. With fun cartoon-style graphics, free spins and bonus rounds, it is the perfect blend of humour and excitement in a football-themed casino adventure.
Top Trumps Football Legends
Top Trumps Football Legends, by Playtech, is a card-based slot game. It features some of the most legendary football players as symbols – and you can select your favourite footballing icons to appear on the reels. What's great about this game is that it also incorporates elements of strategy as you choose your team and compete for big wins. It's a perfect fusion of football nostalgia and casino gaming.
Shoot!
Shoot! is a more retro-style football-themed slot game by Microgaming that pays homage to the history of the sport. It features symbols of iconic football players and classic football memorabilia. Then we have the bonus game that allows you to pick vintage trading cards to reveal prizes – adding an element of nostalgia, making it perfect for fans of the sport's golden era.
Football: Champions Cup
Football: Champions Cup by NetEnt is another exciting slot game that immerses us in a virtual football tournament. It offers penalty shootout bonus rounds, where you get to take on the role of the goalkeeper, trying to save shots. With its realistic graphics and crowd atmosphere, it perfectly captures the intensity of a major footie competition.
Football Factory
This game, Evolution Gaming is a unique live casino game that combines the excitement of football with the thrill of casino gambling. This innovative game takes place in a virtual football stadium, complete with a commentator and a charming host. You can bet on various football-related outcomes, including penalty shootouts, free-kick rounds – and more. What sets this game apart from the rest is that it offers a completely immersive experience, meaning you can interact with the host and other players in real time.
Football Factory adds a real dynamic and social dimension to traditional casino gaming, making it a perfect choice for footie fans looking to hit the casino floor.
Ultimately, football and casino gaming have come together to create a dynamic fusion of excitement and entertainment to create some incredible titles. Whether you're a football fanatic looking for a new way to enjoy the sport or a casino enthusiast seeking football-themed games, these options offer a thrilling gaming experience. These games capture the very essence of the beautiful game and provide an opportunity to score big wins while celebrating your favourite sport. So, lace up your virtual boots, spin the reels, and aim for the goal in these exciting football casino games.