Games similar to Luau Loot
Provider
Luau Loot is a free online casino slot like gaming platform provided by WMS gaming and espouses a southern pacific feel most likely Hawaii. Furthermore, the game provides a display of palm beaches, guys riding huge waves and ladies in plant skirts with a wide variety of tropical fruits evoking the coastal feeling while playing a soothing soundtrack.
Luau Loot Free Online Slot Machine Review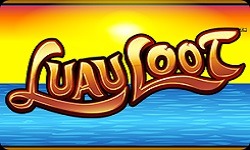 Additionally, an overview of Luau Loot consists of twenty-five pay lines with five reel video slots. Presented in a bright blue skyline backdrop with various fruits including pineapples, guavas, coconuts, tiki statues, leis, shells, parrots and mangoes while characters with the highest value being a surfer and a dancer as the different characters consistent with the presentation of various slots offering dynamism. Henceforth, the game is mainly for fun and requires no deposits. However, there is a minimum rate of 0.01 coins and a maximum of 3 coins.
Bonus Game And Free Spins
Moreover, a line only allows one coin at a time. Thus making the winnings a little bleak for the jackpot. The display also includes a unique Luau Loot wild logo that offers additional quest options for gaming purposes acting as a scatter.The game does not offer a variety of bonus games and free spins Although it has one option of captivating free spins. Though in order for a player to achieve these they must have accumulated not less than three scatters which will subsequently offer five free spins, the larger the amount of scatters the higher the bonus free spins.
Mobile Version
You can also play the free mobile version of the Luau Loot online slot machine. However depending on your android version the clarity of the images and characters is questionable. The characters may look clamped together depending on the screen size of the portable device. Therefore playing it through the mobile version might be a bit tricky but worthwhile.to reel and spin your footprint on the world stage.
Luau Loot gameplay